Women's organic sweatshirt
The organic cotton women's sweatshirt range has been lovingly crafted using natural and sustainable materials without compromising on style and wellbeing. All of our women's organic sweatshirts are designed to leave you with a unique look and a comfortable feel.
3 results displayed
Best seller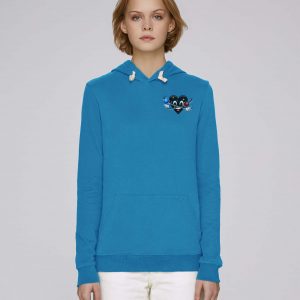 Collection de Sweat shirt biologique pour femme
SandB est la marque originale d'habits écologiques. Nous améliorons nos types et notre conception éthique pour vous proposer des habits agréables et actuels environnementaux. Il n'y a pas de doute sur la pérennité et la respirabilité des matières biologiques. C'est pour cela qu'ils font les meilleurs Sweat shirt bio femme qui peuvent résister aux éléments tout étant écologiques et durables. Optez pour la collection de Sweat shirt bio femme sans attendre. En utilisant des fibres organiques, d'origines naturelles et écologiques de première qualité nos vêtements sont végétaliens et tous sont eco-responsable. Quotidiennement nous oeuvrons à diminuer notre empreinte écologique. Découvrez la ligne de Sweat shirt bio femme fabriquée par SandB. Une ligne de vêtements cotonneux écologique habilement confectionnés. Chaque pièce d'habits en coton biologique est fabriquée dans un textile doux et solide. Car consommer et assurer la protection de la planète est encore mieux. Des Sweat shirt bio femme qui sont un peu uniques. Des pièces qui offrent à la fois un confort illimité et un look intemporel. Fabriqués depuis des fils de coton d'origine naturelle et écologique ces vêtements sont doux pour l'épiderme et limite les réactions allergiques. Essayez-les par vous-même, vous remarquerez rapidement désirons dire.